Employers | Partners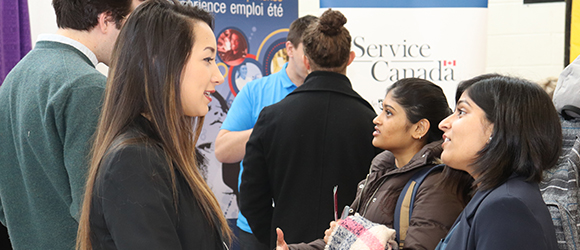 As a valued partner promoting employment or post-graduate educational opportunities, the Employer Relations unit is excited to work with you. We take a needs-based approach to understanding your unique recruitment goals and connect you with the Western students and alumni that will drive the future success of your organization.
We look forward to learning more about your organization and helping you build your Western talent pipeline!
Host an Information Session at Western
Information Sessions provide you with an opportunity to promote your school and its programs and explain the details of your application and admissions process to interested students.
We will support all logistical arrangements and take care of all on-campus marketing—simply tell us who you'd like to reach!
Please note: Due to COVID-19, information sessions will take place virtually until further notice. More details about this and how to book can be found below.
Book Your Session
Standard Package - $200
Host a virtual information session using Zoom (Western has a corporate licence).
We recommend that your session include a presentation that is no longer than 20-30 minutes, followed by question & answer and possibly, break out room sessions. You will need to have two or more staff members for this option. Where you can, we encourage you to have staff that are Western alumni, in the Zoom session, as students might feel more comfortable talking with them.
You will be supported by our team throughout the process, to ensure the success of your event.
This package includes:
Booking the session

Promoting it on Western Connect

Sharing it widely on social media (Twitter, Facebook, Instagram), student clubs, email notifications, etc.

Managing your registration

Providing your registration lists

Sending the secure Zoom link to those registered

A member of the Employer Relations Team will participate in the Zoom session and will perform tasks such as facilitate introductions, manage the presentation slides, run polls, and manage breakout rooms

Payment for your session is made online. We will provide you with a payment link once your session is confirmed
In the past, we have hosted information sessions in the early evening, however if classes are mostly online, we might be able to host information sessions at different times during the day.
We will be in touch as more information regarding Fall classes at Western becomes available. If you have a preferred time in mind, please indicate this in the additional comments section of the form.
We recommend that your session include a short, 20-30 minute presentation, followed by a question and answer session. In your presentation, share with students:
Information about your education institution
Benefits of your academic program 
Important application dates and timeline (application deadline, interview, and acceptance letter)
Any other key information that you wish to share, including short videos from alumni
Below are a few additional outlets through which you may wish to promote your information session.
Don't forget that many students will be searching for jobs on  Western Connect. Consider posting the position you are recruiting for in advance to deepen their interest and engagement with your organization. It's a great idea to include a description of your company with links to your website, as well as the detailed information about your session once it has been confirmed.
Western News is the official newspaper (now digital) of the university. Advertisements start at $34. Contact Western News at (519) 434-9990 or  campusad@sympatico.ca
Graduate and Professional School Fair
Western's Graduate & Professional School Fair is an opportunity for recruiters to share information about their graduate-level or professional school programs, and generate interest from Western students about continuing their studies at their institution.
Thursday, October 26 & Friday, October 27, 2023
10 a.m. - 3 p.m., Mustang Lounge (UCC)

Please note: We do not permit booth sharing between faculties/departments
Cancellation and Refund Policy
Cancellations will not be accepted verbally, and must be emailed to Shanice Narain

Should an organization be eligible for a refund, the cancellation fee will be deducted from the registration cost, and the remaining amount will be returned within 5 business days.
| | |
| --- | --- |
| # of Business Days Before Fair | Cancellation Fee Amount |
| > 10 Business Days | $75 |
| 5-10 Business Days | $150 |
| <5 Business Days | No refund. Cancellation Fee is FULL registration cost |