Volunteering | Leadership
Volunteering | Leadership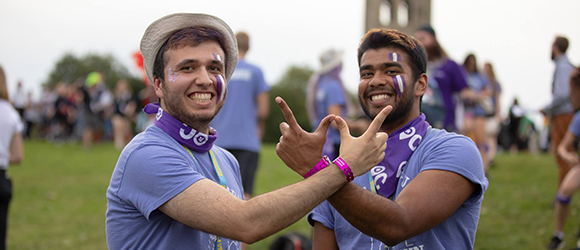 Do you want to meet new people with similar interests? Gain valuable and transferable skills? Improve your ability to communicate effectively? Learn more about yourself? Broaden your experience outside the classroom?
If you answered yes to any of the above questions, you will benefit from getting involved, on or off-campus, in one of the many leadership opportunities available to students. For many Western grads, their most memorable university experiences and personal connections develop outside the classroom walls.
Connect with Virtual Opportunities
Leadership Opportunities on Campus
Western Peer Leaders . Student Experience recruits more than 300 student leaders each year.
Campus Leadership Opportunities . Between the USC and faculty and residence councils, Western has a leadership opportunity that aligns with your interests.
Co-Curricular Experiential Learning . Employers are looking for transferable skills developed through hands-on or on-the-job experiences outside of the classroom.
Education in Leadership. Western offers a number of curricular Leadership courses and co-curricular programs you might want to explore.
Get Involved Beyond Campus
Community Engaged Learning (CEL)
Partner with groups, individuals, and organizations in the London region and abroad to tackle important issues.
Pillar Nonprofit Network
Based in London, whether you're looking for volunteer opportunities, networking events or a job in the nonprofit sector, we can help.