Tech Talent Exchange 2023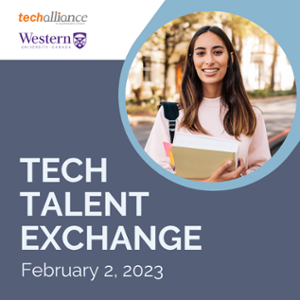 TechAlliance is returning to host Tech Talent Exchange on Thursday, February 2, 2023, from 3:00 to 5:00 p.m. at The Wave (UCC second floor).
Creating Introductions - Making Things Happen 
As an ambitious, eager and curious post-secondary student, we invite you to Tech Talent Exchange (TTX), where you can connect with innovation and technology companies looking to add to their teams.
Hear from some of the outstanding tech organizations across Southwestern Ontario who are looking for their next rockstars and why they want you! These organizations include:
How is TTX different from a career fair? Employers are pitching for you to join their team!
To kick things off, they will "take to the stage" and pitch to you! After the companies provide an overview of what they do and what they are looking for, you will have the chance to mix, mingle and network. 
Let Tech Talent Exchange help connect you to your next big thing.
Registration
We invite students and alumni to register for Tech Talent Exchange through Western Connect
Free Food
This free event will be catered by the Wave, and there will be a cash bar.
Professional Attire Guidelines:
Careers & Experience values and respects Western students' rich culture and experiences. We wish to empower students to embody their professional identity in a way that is true to them and encourage students to present themselves in a way that is not limiting to their identities. 
Please do not feel you need to:
Change your natural texture
Remove or re-style any religious symbols or headwear (or adapt religious dress)
Adapt to gender binaries
Remove piercings
Hide tattoos
As a general guideline, your attire should appear polished and workplace appropriate as it would if you were attending an interview. We recommend wearing business casual attire.
*We ask that you avoid using scented and fragranced products (e.g. perfumes, colognes, lotions, mists) as Western is a fragrance-free environment.