Careers in Federal Government Day
Careers in Federal Government Day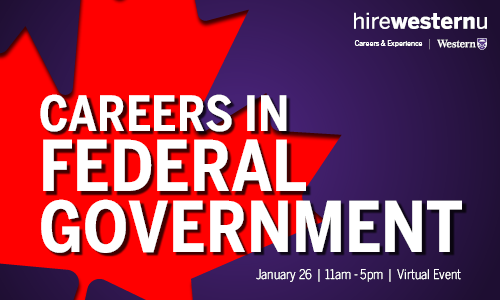 Have you considered a career in the public service? Learn about opportunities to start your career with Canada's Federal Government!
On Wednesday, January 26, 2022 between 11am-5pm, join us to engage in one-to-one text- and video-based conversations with Federal Government organizations and learn about current and future job opportunities within the Federal Government.
Virtual Recruitment Hub
Pop in when it suits your schedule and have a conversation with representatives from various Federal Government organizations to discover potential career paths and opportunities.
Time: Join anytime between 11am - 5pm EST
Location: Virtual 
Attending Organizations
Agriculture and Agri-Food Canada
Canada Revenue Agency
Canadian Coast Guard
Canadian Security Intelligence Services (CSIS)
Communications Security Establishment Canada (CSE)
Department of Justice – Information Solutions Branch
Department of National Defence – Policy Officer Recruitment Programme (PORP)
Immigration, Refugees and Citizenship Canada
Infrastructure Canada
Internal Audit Policy and Communities
Shared Services Canada (SSC)
Treasury Board of Canada Secretariat – Financial Management Community Development Team
Scheduled Discussions
Armchair Discussion
Join Canada Revenue Agency's (CRA) Commissioner, Bob Hamilton and Western's Acting President & Vice-Chancellor, Sarah Prichard for a virtual armchair discussion moderated by Western's Executive Director, Government Relations & Strategic Partnerships, Peter White to hear about the "Future of work" in the public service and initiatives at the CRA to improve the workplace for it's employees and support Canadians everyday.
Time: 12:00pm - 12:30pm EST
Location: Virtual, within the Brazen platform
---
Workplace of the Future Panel Discussion
Join leading professionals from Federal Government agencies in exploring each organization's approach to building the workplace of the future.
Time: 12:45pm - 1:45pm EST
Location: Virtual, within the Brazen platform
Topics include:
Federal Government agency initiatives to creating a workplace that is equitable, diverse, and cultivates inclusion.
Skill sets that Federal Government recruiters are looking for from university interns and graduates.
The format of work within Federal Government organizations: Remote, hybrid, in-person model.


Why work for a Federal Government organization?
Federal Government organizations value undergraduate and graduate degrees when hiring and are large supporters of life-long learning.


There are a large variety of Federal Government organizations and, in turn, a greater opportunity for students and alumni to work within a career that matches their area of study and passion.


The work conducted by students and alumni working within Federal Government organizations has meaningful impacts on the lives of Canadians.


Federal Government organizations offer competitive salaries and benefits.


Students and alumni are offered more opportunities in comparison to industries outside of the Federal Government to work where they want to work as Federal Government organizations offer job opportunities in every province and territory.
Dress Code
Careers & Experience values and respects the rich culture and experiences of Western students, and understands that traditional dress codes can limit their ability to express their whole selves. We wish to empower students to embody their professional identity in a way that is true to them, and encourage students to present themselves in a way that is not limiting to their identities. A general rule is your attire should always appear polished and workplace appropriate (without having to hide your personal identities).
Please do not feel you need to: change your natural texture, remove or re-style any religious symbols or headwear (or adapt religious dress), adapt to gender binaries, and/or remove piercings.