hirewesternu Fairs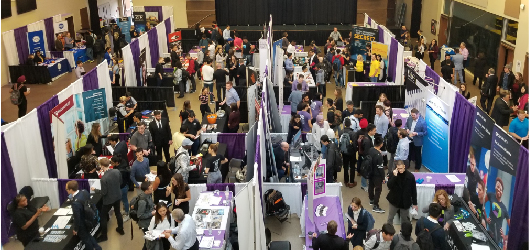 Over 70 organizations attend the Career Fair to meet YOU - a Western student or alum. This is an all-faculty fair, designed to connect employers with students and alumni from all academic levels and programs.
The fair is the perfect place to build your professional network, and explore different industries, careers and employment opportunities available to you.
Dress Code
Business casual or business formal. No jeans, distressed clothing, or athletic wear, please.
Fair Etiquette
Talk to recruiters about workplace trends; the skills, experience and knowledge required to get hired into the industry; and what will set you apart as a potential candidate.
Be sure to research organizations in advance so that you appear knowledgeable – bring a list of questions to show what you've learned about the company and to find out more.
BEFORE THE FAIR
Review the list of participating organizations; new attendees are added regularly.
Visit the organizations' websites to gain an understanding of who they are and what they do.
Prioritize a list of organizations to connect with.
Develop and practice your Elevator Pitch .
See Skills Employers Seek which will help you identify your skills and competencies.
Prepare a folder to hold resumes to distribute and organizational literature you will collect.
AT THE FAIR
Greet recruiters with a smile and a firm handshake. Introduce yourself using your Elevator Pitch.
Listen attentively to the company representatives when they are talking to you and others.
Ask about trends in their field, advice on how to prepare for roles within their company, resources they use to keep current in their field, or other professionals they could refer you to.
Get the representative's business card or simply record their name. Write a brief note to remind yourself of the conversation.
Other Ways to Prepare
Have Your Resume Reviewed
Drop in to this special two-day event in the UCC atrium for help with your job search documents, or stop by WERC any day of the week.
Talk to a Career Educator
Get help with issues such as identifying career options, making career decisions, and implementing effective job search strategies. Book an appointment.